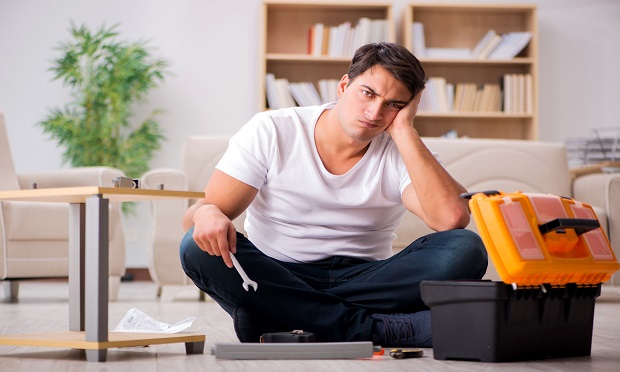 My husband and I are not handy. But after more than a decade in our midcentury ranch-style house, the place started to demand attention.
That's how I come to be midway through a single-spaced, typed page of planned updates to our home that we hope to accomplish before the end of this year. The list includes several smaller, subtle projects such as updating old light fixtures and faucets along with a few costlier ones like replacing a large, sliding-glass patio door.
We certainly aren't the only homebodies who took a long, hard look at our space during the pandemic and decided it needed some love.
Harvard's Joint Center for Housing Studies reported in 2021 that although the U.S. economy shrank by 3.5% in 2020, spending on home updates and repairs grew more than 3% to nearly $420 billion.
Forbes reported more recently that home improvement spending slowed in early 2022 due to inflation and supply chain challenges. But there remains a surge of homeowners who rushed to refinance earlier this year in order to beat the coming interest-rate uptick and use some of their hard-earned home equity to feather the nest.
Chubb touches on these housing trends in its Fifth Annual Homeowner's Risk Report, which Mary Parsons with Chubb Personal Risk Services, writes about in the June/July issue of NU Property & Casualty magazine. She notes that over a third of homeowners in the U.S. and Canada embarked on renovations during the last year. A good portion of us chose to undertake these renovations ourselves without hiring a contractor, and many did so without considering the associated property risks.
What are the most common renovation mistakes? Failing to set a realistic budget (guilty!), failing to complement the home's original architecture, and making trendy rather than functional décor choices are common missteps for DIYers, according to Nationwide. For those homeowners who hire contractors, the insurer advises against rushing to judgment. It's important for homeowners to interview more than one contractor, check references and ask plenty of questions to be certain they hire someone who's affordable and easy to work with.
Homeowners who are concerned about value might opt to skip trendy decorating ideas and go straight to the renovations that tend to impress buyers the most. These updates includes kitchen and bathroom remodels, fresh lighting and smart landscaping that lends to a home's curb appeal, according to Better Homes & Gardens.
All of these projects are a chance for home insurance agents to step up for their clients, who may not realize the high chance that their property may sustain water damage during a renovation, or that certain updates, such as finishing a basement or installing a swimming pool, will require additional insurance coverage.
"To help ensure the remodel goes smoothly, agents and brokers should talk to their clients about either hiring a reputable contractor who will create a written plan that outlines the details of the project or have the homeowner develop a detailed plan themselves," Parsons writes. "Having insurance to cover the home and the project is also important, as losses can happen during the renovation process, and insurance coverage may be compromised if the insurance company is not informed when renovations are planned."
I guess it's time to put in a call to my own home insurance agent.
See also:
Related Posts