"She completely recognized the seriousness of the acts she posed and she didn't try to mitigate anything."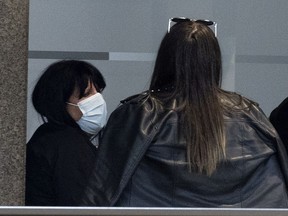 Article content
A woman who defrauded the company she worked for out of more than $745,000 while working as its salary manager received a sentence Monday that she will be able to serve in the community.
Article content
Quebec Court Judge Karine Giguère noted that Georgia Tzanetakos, 61, of Laval, believed she had put what she did while working for home decor retailer Clair de Lune in the St-Laurent borough behind her in a civil case that was settled years ago and was very surprised when she was charged in criminal court at the Montreal courthouse in 2020.
The Crown asked for a three-year prison term while defence lawyer Richard Tawil argued Tzanetakos has already been punished for the fraud charge she pleaded guilty to last year. Giguère agreed with Tawil's recommendation that his client receive a sentence of two years less one day and that she be able to serve it in community.
Tzanetakos will spend the first 18 months of the sentence under house arrest. She has to be at her home 24 hours a day during that time except to get necessities like groceries, attend church, work, carry out 100 hours of community service and to look after her mother on Sundays.
Article content
"She completely recognized the seriousness of the acts she posed and she didn't try to mitigate anything. She seems honestly sorry for what she had done and she tried to apologize to the owner of Clair de Lune even if he didn't want to accept it," Giguère said while summarizing Tawil's arguments. The defence attorney also underlined how Tzanetakos received a diagnosis of kidney cancer, before or while she was carrying out the fraud, and was told years ago she did not have long to live.
Tzanetakos worked for Clair de Lune as its salary manager from 2008 until September 2014 when someone discovered what she was doing while she was on vacation. She began the fraud in 2011.
"She doesn't know why she did it and why she pursued in the way she did except that she was afraid to die (of cancer) and wanted to enjoy life at all costs," Giguère said. "Once the civil proceedings were over she filed for bankruptcy and dispersed large amounts of money to settle everything legally."
Article content
The judge also noted that Tzanetakos's house, her car and vehicles belonging to family members were seized and her backyard was dug up because investigators believed she hid some of the money there. Her family sold their house to pay the company's owner $65,000.
"Objectively the sentence recommended by the prosecutor is reasonable. However, I have to put into light the fact that the (criminal complaint was filed) in September 2014 and the investigation continued until 2016, which is incomprehensible considering that the civil litigation was concluded in June 2015," the judge said. "Nevertheless, the prosecution took four-and-a-half years to authorize the accusations without any reason."
According to a joint statement of facts placed into the court record when Tzanetakos pleaded guilty on Sept. 1: "The investigation revealed that the accused stole the identity of 124 employees who were either working part-time or were not working for the company anymore. She changed the account number of the employees in the company pay system and she falsified work hours within the former employees' files. Using this stratagem, she diverted the pay of 566 employees."
Tzanetakos managed to divert $746,134 into 10 bank accounts. Some were in her name and others were in the names of her children.
The current owner of Clair de Lune received $65,000 in the past from Tzanetakos plus another $100,000 from an insurance settlement. The judge said the owner has shown no interest in receiving another $20,000 offered by Tzanetakos but ordered that she pay it anyway as one of the conditions of her sentence.
Related Posts